Space Heaters
These devices can be dangerous! See the image and links below for important information.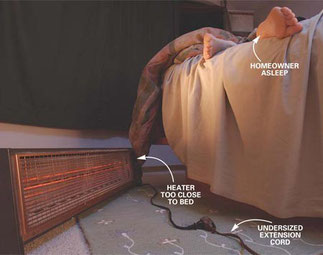 ---
Hydrants...
Try to keep hydrants near your home clear of snow and ice. This saves valuable time in the event of a fire.
We appreciate the help!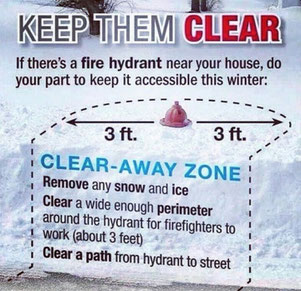 Frozen Pipes
When weather is below freezing, frozen pipes can cause serious problems. Click the image below for helpful advice.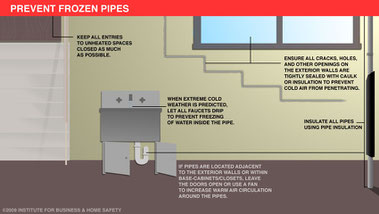 ---
Preventing Fires in Your Home
National Fire Protection Agency data shows cooking is by far the leading cause of house fires.
Fire, heat, foods, grease, electricity and gas in one small area is a recipe for disaster if not closely monitored.
Always keep an eye on appliances you are cooking with.
---
- Furnace Emergencies -
Please have your furnace inspected annually.
---- Oil Burning Furnaces ----  
"Puff backs" occur when oil-burning furnaces don't ignite when they should.  Oil vapors build up, causing an explosion when the igniter triggers.
This blows soot into the heating system, which is carried throughout the house.  
To prevent puff backs, oil-burning appliances should be serviced once per year.
---- Gas Burning Furnaces ---- 
Gas furnaces have control shutoffs to prevent gas leaks, but they are not fail-safe.  If you smell something like rotten eggs, you may have a gas leak.
Don't turn lights on or off, and do not try to shut off the gas leading to the furnace. 
Exit the house and call 911.  Do not re-enter your home.
---- Always Remember ---- 
If carbon monoxide or smoke detectors go off, or if you smell gas or anything burning, call 911 immediately.
---
Outdoor Grill Safety - Don't be This Guy! 
---
Downed Power Lines
If a power line falls on your car, DO NOT LEAVE YOUR VEHICLE unless there is an absolute need to do so. Call 911 and alert anyone trying to help you to stay back.
Here is a good YouTube video that shows steps you can take.
---
- Dryer Fires -
A common source of home fires is the clothes dryer.
Please clean the filter before each use and clean the vent every 12 months.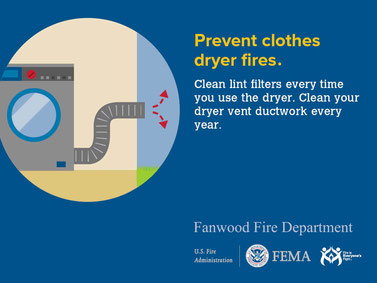 ---
- Grease Fires -
Unfortunately, you or a family member may someday experience a grease fire while cooking.
Never use water on a grease fire. As shown in the photo below, the fire will rapidly spread and intensify.
If possible, use a fire extinguisher or baking soda.
Otherwise, get away from the fire and call 911.
---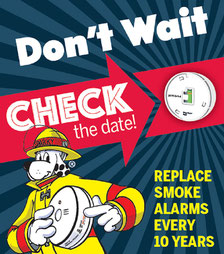 ---
Smoke Alarm & Carbon Monoxide Detectors
Faulty alarms are mainly due to missing, disconnected, or dead batteries. Replace smoke and carbon monoxide detector batteries annually, and test your alarms monthly.
A good time to replace batteries is when turning your clocks ahead for daylight saving time.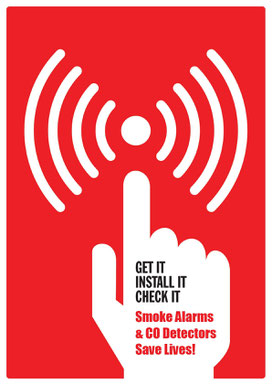 ---
Generators
Never use generators indoors or in a garage, you can be overcome by carbon monoxide.
Place them outside in a well-ventilated, dry area, away from air intakes to the home.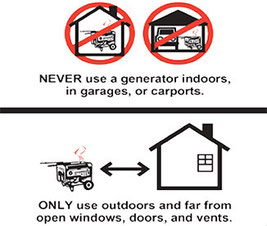 ---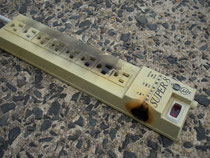 Power Strips
ROUTINELY INSPECT POWER STRIPS AND MAKE SURE THEY ARE NOT OVERLOADED!!!
The photo shows a power strip that was overloaded and moments away from causing a tragedy.
Use only surge protectors or power strips that have an internal circuit breaker.  These units should trip the breaker if the power strip is overloaded or shorted.
If at power strip is hot to the touch, remove and replace the unit.
Surge protectors, power strips or extension cords are NOT a substitute for permanent wiring!  Also, do not plug these devices into an existing surge protector, power strip or extension cord!
---
Candles
Candles are a large cause of home fires. Never let them burn unattended. Candles can easily ignite combustible items that are too close to them.
The American Red Cross has statistics about candle fires and safety advice here.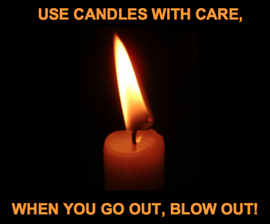 ---
Sump Pumps
Sump pumps remove accumulated water from a sump pit.  They are usually installed in basements where a majority of flooding can occur.  They are also used to decrease dampness by lowering the water table under a foundation.
Sump pumps should be examined at least once a year. They are highly mechanical and will fail eventually, which could lead to a flooded basement requiring costly repairs.
When cleaning a sump pump, dirt, gravel, sand, and other debris should be removed to increase efficiency and extend the life of the pump.