- Memorial Day Weekend 2018 - 
The Fanwood Volunteer Fire Department was proud to participate in this year's Fanwood and Scotch Plains Memorial Day activities.
Photos courtesy of Tom Kranz, John Mooney and Jonathan Joshua
5/21/18 - MVA - Car Into Tree
A car heading northbound on Martine Ave near the intersection of Herbert Ave crossed into the southbound lane, then hit a tree.
Engine 7 and Ladder 1 responded. Crews assisted with patient assessment, safely securing the vehicle, and cleanup.
The driver was transported to a local area hospital.
5/18/18 - Restaurant Kitchen Fire
Fanwood FD assisted Scotch Plains FD at an early morning fire at a restaurant on Park Ave in downtown Scotch Plains.
FFD was dispatched at approximately 1:30 AM. Engine 7, Engine 8, and Ladder 1 responded.
The fire was contained to the kitchen but there was smoke damage throughout the building.
5/15/18 - Heavy Rain and High Winds
A strong storm with high wind gusts swept through Fanwood on Tuesday evening.
Several areas around the borough were left without power due to downed wires. 
Fortunately there were no injuries.
4/25/18 - Knights of Columbus
Annual Shield Awards 
Fanwood and Scotch Plains Police, Fire and Rescue Squads were recognized at the annual Shield Awards presented by the Knights of Columbus at St. Bartholomew's Church. 
Assistant Chief Steve Szanto accepted the award for all FFD members, and noted the ongoing successful partnership between the Fanwood and Scotch Plains Fire Departments.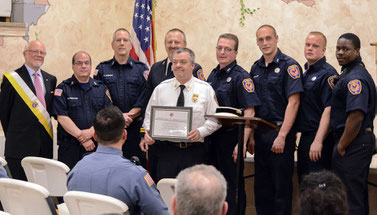 3/29/18 - Rollover - Montrose and Martine
Fanwood Fire was dispatched to a vehicle rollover at Montrose and Martine Thursday evening. Firefighters arrived to an SUV on its side with an entrapped victim.
Crews from Engine 7 and Ladder 1 stabilized the vehicle and safely removed the patient. 
The patient was treated at the scene by the Fanwood Rescue Squad and released. 
3/20/18 - South and Terrill - Extrication
The Fanwood Fire Department extricated a man from his vehicle after he lost control and rolled over at the intersection of South Ave and Terrill Road.
Firefighters needed to remove the roof of the vehicle to safely extricate the patient.
The man was transported by Fanwood EMS to a local hospital with minor injuries.
3/3/2018 - Damaging High Winds
The Fanwood Fire Department spent most of the day on Saturday responding to wires down, flooded basements, and trees falling - several causing major damage to homes. Details to follow...
3/1/2018 - Structure Fire - Crestwood Rd, Scotch Plains
FFD was dispatched to assist Scotch Plains FD at a house fire on Crestwood Road. Units arrived to a well-involved fire on both floors. Details to follow...
2/16/2018 - MVA w Injuries
At approximately 6:00 AM on Friday FFD was dispatched to an MVA with three vehicles on Terrill Road near Midway.
Five people were hurt and several were taken to area hospitals with non life-threatening injuries.
FFD provided extrication support, assisted with patient removal, and cleared debris and leaking fluids from the roadway.
Both directions of Terrill Road were closed for about an hour.
1/22/18 - Combined Drill w Scotch Plains FD
The Fanwood FD participated in a drill with Scotch Plains FD at 2 homes on Terrill road that were to be demolished.
Drills included - forcible entry, searching for victims, wall breaches, self-rescue, ladder operations, and roof operations including ventilation.
Thanks to the SPFD for the invitation to participate in this event.
1/20/18 - Annual Dinner Dance
The Fanwood Fire Department and Rescue Squad held their annual Dinner and Awards Presentation at the Westwood in Garwood.
The following awards were presented:
- Top Call Pct for 2017 -
     Officer - Chief John Piccola
     FF - Tony Grasso Jr
- Active Service Awards -
     Company Pres Rick Regenthal - 40 yrs
     Asst Chief Steve Szanto - 20 yrs
     FF Bill Mauer - 15 yrs
     FF Jimmy Drewes - 15 yrs
     FF Dan Piccola - 10 yrs 
     FF Tony Grasso - 5 yrs
     FF Zach Weisglass - 5 yrs 
- New Life Members (25 yrs of active service) -
     Company Pres Rick Regenthal - 40 yrs
     FF Jeff Downing - 37 yrs
     Chief John Piccola - 37 yrs
     Ex-Chief Dave Clausen - 33 yrs
     FF Bruce Padulsky - 26 yrs
1/2/18 - Midway Ave Basement Fire
January 2nd, at 1600 hours, the Fanwood FD was dispatched to Midway Ave to a reported basement fire.
Scotch Plains FD was dispatched to fill the box and a truck from N Plfd was requested to the scene.  Fire was under control within 45 minutes in 15° temperatures.
A cover assignment was assigned to Fanwood Fire headquarters to cover Fanwood and Scotch Plains. No injuries we're reported!