This page shows just a part of the more than 300 calls, events, and drills the Fanwood Fire Department responds to each year.
6/10/2017 - Annual Boot Drive
The Fanwood Fire Department held its annual Boot Drive at the intersection of Martine and South Avenue.
The results of this fund raiser goes towards purchasing new training equipment and other gear.
Thanks to all Fanwood and local area residents who contributed. We appreciate your generosity!
5/29/2017 - Memorial Day Services
The Fanwood Fire Department participated in the annual Memorial Day Service at the Fanwood Library. 
FFD also held it's annual service at the fire house saluting past members who have died.
On Memorial Day Eve, Fanwood's Ladder 1 displayed the American Flag during the "Tribute for Fallen Heroes" concert on the Green at Scotch Plains Municipal Hall.
- From the Archives -
This newspaper clipping is from 1993, when 6 Fanwood Firefighters received an award for their efforts administering first aid to a surviving victim at a car accident that claimed 2 lives.
In the left on the photo is current Assistant Fire Chief Dave Zawodniak, and second from the right is current Chief John Piccola.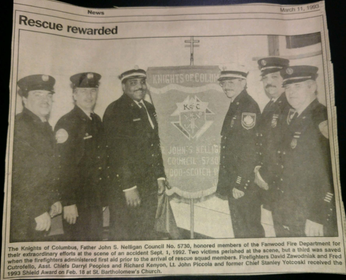 5/2017 - NS Railroad First Responder Training
Fanwood Fire Department members attended Norfolk Southern's 'Operation Awareness & Response' course.
OAR teaches first responders the dangers and initial steps needed after a freight train derailment, particularly if hazardous materials are involved.
The training was held on modified freight cars temporarily located on Amtrak's Northeast Corridor line in Linden.
4/27/17 - Knights of Columbus First Responder Awards Night
The Nights of Columbus Father John Nelligan Council held its annual awards night for first responders at St Bart's Church in Scotch Plains.
Accepting the award on behalf of the Fanwood Fire Department was Assistant Chief Steve Szanto.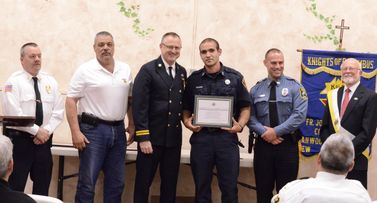 3/21/2017 - Company President Regenthal Honored
Fanwood Fire Company President Rick Regenthal was honored as "Volunteer of the Month" by the Mayor and Town Council at Tuesday's Borough Hall Meeting.
Rick has been a member of the Fanwood Fire Department for 20 years, and was Chief from January 2002 to December 2005.
He was also a member of the Scotch Plains FD for 20 years prior to joining Fanwood.
Thanks for your service Rick and congratulations!
3/6/2017 - CEVO Training - Forest Road Park
Firefighters who drive emergency apparatus attended a driver safety course at Forest Road Park in Fanwood.
CEVO - which stands for "Coaching the Emergency Vehicle Operator" - reviews the finer points of safely driving to and from an emergency scene.
The course was sponsored by the Fanwood Fire Department. Members from Westfield FD and North Plainfield FD also attended.
2/22/2017 - Lions Club Donates to FFD from Tree Sales 
The Fanwood Fire Department received a donation of almost $6,000 from the Fanwood Lions Club. This was from the proceeds of the annual Christmas Tree Sale at La Grande Park.
A check was presented to Chief Piccola by Lions Club President Dave Trumpp at the Fanwood Town Council Meeting.
2/2017 - FF Sam Fouree Joins Westfield PD 
Congratulations to Fanwood Firefighter Sam Fouree who was hired as a police officer by the Westfield PD.
Sam completed the Police Academy in the fall, and has already begun riding assignments in Westfield.
He joins fellow Fanwood Firefighter Nick Bagan who has been on Westfield PD for over three years.
Sam, great job and be safe! 
2/14/2017 - Birch St - Kitchen Fire 
At approximately 06:30 hours, Fanwood Ladder 1 was dispatched to assist Scotch Plains FD at a kitchen fire on Birch Ave in Scotch Plains.
Although there was heavy smoke, the fire did not extend beyond the kitchen. There were no injuries.
2/13/17 - New KME Pumper - Engine 7 Has Arrived
The Fanwood Fire Department accepted delivery of it's newest Fire Engine, a 2017 KME 1500 gallon per minute pumper that holds 750 gallons of water and a crew of 6.
2/13/2017 - Gas Main Ruptured - North Ave 
Fanwood FD was dispatched to a large 6-inch gas main that was accidentally ruptured by construction crews on North Ave. 
Units remained on scene for over two hours as Elizabethtown Gas performed emergency repairs.
2/12/2017 - Forced Entry to Assist Fall Victim 
While on cover assignment at Plainfield Fire Headquarters, Fanwood Engine 8 was dispatched to a report of an elderly person incapacitated in a locked home on Spooner Ave in Plainfield.
Fanwood firefighters used a ladder to access and open a second floor window, entered the home and located the victim.
2/10/17 - Midway and Shasta Pass - MVA
At 16:15 hours, FFD was dispatched to a single vehicle MVA with rollover. The vehicle also broke off a fire hydrant.
The driver received minor injuries, there were no passengers. 
A section of Midway was closed for about 45 minutes.
2/4/2017 - Microwave Fire - Paterson Rd 
At 19:30 hours, FFD was dispatched to a reported microwave fire in a home on Paterson Rd.
Firefighters reported no extension to the rest of the structure, and no related electrical issues or smoke damage.
2/2/2017 - Brush Fire - Hetfield and South
At 11:15 hours, FFD was dispatched to a brush fire at Heftield and South Ave. 
The fire was quickly extinguished, there was no damage to nearby structures.
1/21/2017 - Annual Awards Dinner
The Fanwood FD and Rescue Squad held their annual awards dinner at Berkley Plaza in Berkley Heights. 
Pictured below, officers of the Fire Department and Fire Company are sworn in by Fanwood Mayor Colleen Mahr.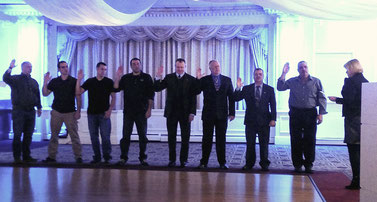 1/14/17 - Structure Fire - Hoe Avenue  
On January 14th @ 0849 hours, The Fanwood Fire Department was requested to Hoe Ave in Scotch Plains for a confirmed structure fire.
Upon arrival, Ladder 1, commanded by Capt. Brian Piccola and Engine 8, commanded by Capt. Frank Dietl, were assigned to ventilation and 2nd attack line.
A mutual Aid cover assignment was requested to stage in Fanwood to cover both towns.
The fire started in the basement, extended to the first floor, behind the kitchen cabinets. The fire was under control within 45 minutes.